We grow quite a variety of greens on the farm, some of our favorites include spinach, both green and bourdeaux, chard, raab,  as well as kales, and mustard greens.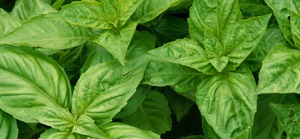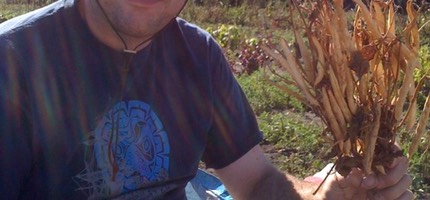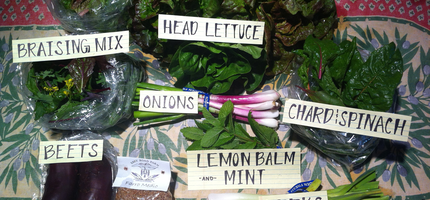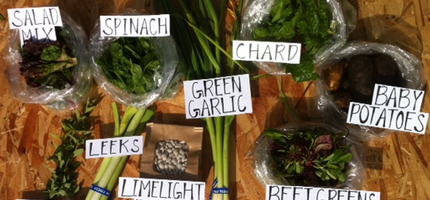 Kale and Kale Raab with Pasta              
1-pound pasta                                    
¾ pounds Italian sausage                  
3 cups kale and kale raab                       
2 spring onions                       
1 bunch green garlic                           
½ tsp. red pepper flakes                               
1 ½ cups chicken stock           
¼ cup grated Parmesan cheese
Bring 3 quarts of water to a boil. Add the pasta and cook as directed on the package, until al dente. While pasta is being prepared, cook kale and raab in chicken stock for about 8 minutes. While greens are cooking, sauté Italian sausage until brown – about 8 minutes. Use a slotted spoon to remove sausage from pan. Add  onions to pan, sauté until soft. Add green garlic and cook for a minute more. When pasta is done, drain and return to pan. Toss together with the greens, sausage, garlic, and Parmesan cheese. Add red pepper flakes to taste.
Rainbow Chard with Ginger         
1 bunch rainbow chard            

1 cup water or low-sodium chicken broth

1  Tbsp. olive oil                                  
2 green garlics, minced
           
1/2 tsp. ground cumin

1/2 tsp. grated fresh ginger               

1 tsp. lemon juice
                     
Salt to taste


Wash the chard and remove the stems. Place them in a sauté pan with 1 cup of water or broth and bring to a boil. Cover the pan and turn down heat. Simmer for 15-20 minutes until the greens are tender. Drain the greens, but reserve all the remaining liquid in a bowl. Heat the oil in the sauté pan and add the greens. Mix in the reserved water, the garlic, cumin, and ginger and cook uncovered at a low heat until the mixture is almost dry. Add lemon juice and salt to taste.
Chard Tacos                                  
1 1/2 tablespoons olive oil
1 large onion, cut into 1/4-inch slices
3 cloves garlic, minced
1 tablespoon red pepper flakes, or to taste
1/2-cup chicken broth
3 cups chard, tough stems removed and leaves cut crosswise into 1 1/2-inch slices
1 pinch salt
12 corn tortillas
1 cup crumbled queso fresco cheese
3/4-cup salsa
Heat the olive oil in a skillet over medium heat. Stir in the onion; cook and stir until the onion has softened and turned golden brown, about 10 minutes. Add the garlic and red pepper flakes, stirring until fragrant, about 1 minute. Stir in the chicken broth, Swiss chard, and salt. Cover and reduce heat to low. Simmer until chard is nearly tender, about 5 minutes. Remove lid and increase heat to medium, stirring until the liquid evaporates, about 5 minutes. Remove from heat and set aside.
Heat another skillet over medium-high heat. Warm the tortillas in the skillet for about 1 minute per side. Fill the warmed tortillas with the chard, and top with the queso fresco cheese and salsa.
Spinach salad with cranberry                
1-tablespoon butter
3/4 cup almonds, blanched and slivered
1/3-pound spinach, rinsed and torn into bite-size pieces
1 cup dried cranberries
2 tablespoons toasted sesame seeds
1 tablespoon poppy seeds
1/2 cup white sugar
2 teaspoons minced onion
1/4-teaspoon paprika
1/4 cup white wine vinegar
1/4-cup cider vinegar
1/2-cup vegetable oil
In a medium saucepan, melt butter over medium heat. Cook and stir almonds in butter until lightly toasted. Remove from heat, and let cool.
In a large bowl, combine the spinach with the toasted almonds and cranberries.
In a medium bowl, whisk together the sesame seeds, poppy seeds, sugar, onion, paprika, white wine vinegar, cider vinegar, and vegetable oil. Toss with spinach just before serving.
Braising Mix with Garlic Scapes
1-2 tablespoons olive oil
½ pound greens, washed and coarsely chopped.
4 garlic scapes, chopped
1/8-cup water or vegetable broth
Salt to taste
Optional flavorings: Sesame oil, ume plum vinegar, tamari, cider vinegar
Optional toppings: sesame seeds, chopped almonds or walnuts, toasted pumpkin seeds
1Heat oil in a large skillet over medium-high heat and add greens and garlic, stirring to coat with oil. Stir occasionally until greens are barely wilted, just a few minutes.
Add vegetable broth or water and stir, allowing greens to steam until barely tender. Salt to taste.
Add flavorings and toppings as desired and serve.