Check out our Fresh Produce for Sale on the Local Produce Page!
Paperwork for signing up for our 2015 CSA click here!
Quick Link to Internship Paperwork.
Prairie Bottom Farm is a small, Family-run, market garden located in the heart of Whidbey Island's Ebey's  Reserve.  We have been providing custom-grown produce first and foremost to our loyal CSA members, at local farmers' markets and to local restaurants throughout the region.
Spring Plowing is underway as the green cover crop that helps us manage the rains of Winter and Spring is being turned over to prepare for planting.  Many hours have now been spent turning the land over and getting that green sod to break down.  Plowing with a small tractor takes time and attention to detail.  Plowing also draws a lot of attention from the local birdlife and as Wilbur was plowing there were eagles, ravens, crows, gulls, and smaller birds all keeping their eyes open for mice and worms!
We continue to offer our first pick produce to our loyal CSA customers.  CSA stands for community supported agriculture and loyal locals who believe in supporting their local farmers and receiving fresh produce reap the rewards of sharing in a bounty of produce throughout the growing season (June - October).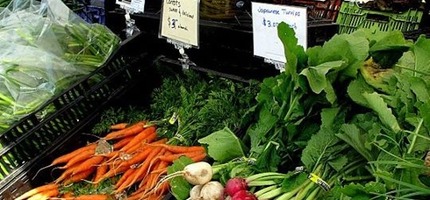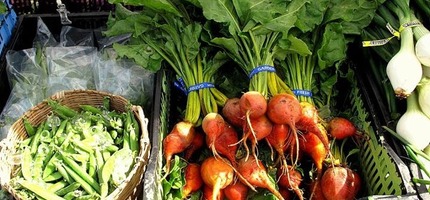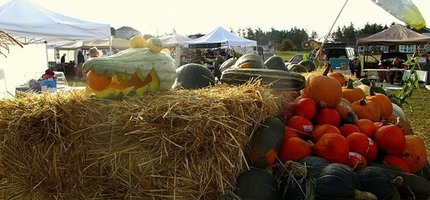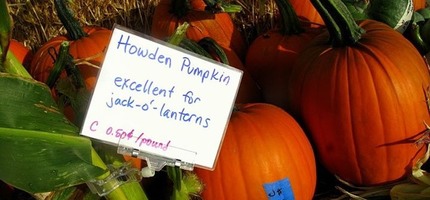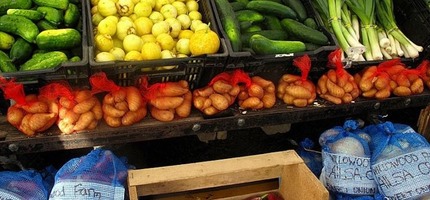 Come see us at the farm, just give us an email via our contact page or visit us at the Coupeville Farmers' Market, Saturdays April through October 10 am -2 pm. 
We bring our antique John Deere squash trailer loaded with produce behind Grandpa Wilbur's 1953 Ford Golden Jubilee each week to market.  This is an example of prodce at the height of the season!
In the News!
Check out the feature on the farm in Whidbey Life Magazine.  Susan Wenzel does a great job of capturing the farm in the body of an article.  We had a great time during the interview, but you can see who stole the show that day!