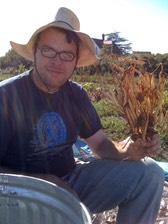 Prairie Bottom Farm raises several different kinds of dry and shelling beans.  Beans are an excellent source of dietary fiber and protein.  This food is low in Saturated Fat and Sodium, and very low in Cholesterol. It is also a good source of Vitamin B6, Pantothenic Acid, Iron, Magnesium, Phosphorus and Potassium, and a very good source of Protein, Vitamin C, Thiamin, Riboflavin, Niacin, Folate, Copper and Manganese.  
The difference between a dry and a shelling bean is rather simple:  they are both the same bean, it is just that the shelling is fresh from a plant that is alive and a dry bean has been dried for storage and has to be rehydrated.  Both are great to cook with.
Soaking beans is necessary when they are dry.  We soak our beans in tap water, though some people have said they have issues if their water is to soft or to hard.  You can soak beans over night covered with several inches of water (check before bed to make sure they haven't swelled above the water line), or you can do a fast soak.  Fast soaking involves bringing beans to a boil for five minutes and letting them sit for an hour until they are tender.
Rockwell Beans and many others have been grown on our farm for years, but Rockwells are a true heritage bean that has been grown for over five generations in our family; I have grown them with my mother Sara and my Grandpa Wilbur.
_______________________________________________________________
Grace Sherman's Rockwell Bean Recipe
My Grandma Grace and Grandpa Wilbur Sherman prepared these baked beans for years and they sat at the head of the church potluck line at the Methodist Church in Coupeville.  I can still remember my grandpa taking the meat off the hock as he would go through line and enjoying it.
Ingrediants
2 cups Rockwell Beans soaked in water overnight, or boiled 5 minutes and left to soak 1 hour.
1 onion diced
1 hamhock (we love using the hocks Dell Fox custom meat's butchers and cures for us).
1/4 to 1/2 cup sugar
3 stalks celery chopped
2-3 cloves garlic minced
Directions
Drain beans that have soaked. Add ingrediants to a bean pot or crock pot and cover with water by 2 inches.  You can modify the sugar depending on taste.  Add salt and pepper to taste (we usually add six to seven good cranks on the pepper mill and three big pinches of salt).  You can bake the beans at 350 degrees for an hour or you can place in a crockpot and cook for 8-10 hours. Serve hot and enjoy the creamy goodness of the Rockwell beans.
__________________________________________________________
Smashed Bean Salad
Ingrediants
2 cups dry beans soaked and rehydrated until nearly tender.
2 onions, minced
2 scallions, chopped
1/4 cup parsley, chopped
1/3 cup olive oil
1-2 cloves garlic, minced
1/4 cup chives, minced
1/4 cup red wine vinegar
salt and freshly ground pepper to taste
Directions
Whisk to combine ingrediants.  Add warm beans and toss to coat with dressing, smashing beans slightly.  This dish can be served warm, room temperature or cold.  Feel free to experiment with different herb and onion combinations.  Grilled onions add a lovely flavor.  Cooked bacon and Feta cheese are also tasty alternatives.
__________________________________________________________
Limelight Bean Breakfast Burritos                  
4 flour tortillas (10-inch)
8 eggs
1 jalapeno pepper, minced
2 tablespoons water
1-tablespoon butter
1 cup shredded Monterey Jack cheese
1 3/4 cups cooked Limelight beans
3 scallions, chopped
1/2 cup fresh cilantro, chopped
1/2 cup your favorite salsa
1/2-cup light sour cream (optional)
3 cups iceberg lettuce, shredded
Additional salsa and sour cream
Rinse the beans with water and then drain the water. Put the beans in a large pot and add fresh water to cover them.
Heat beans and water to boiling, then turn the heat to LOW and cover the pot. Since beans soak up water, you may need to add more water during cooking.
When the beans are tender but firm, they're ready to eat!
Heat oven to 350 degrees. Place tortillas in a large covered casserole (or wrap them tightly in aluminum foil) and warm in the oven.
In a large mixing bowl, lightly beat together eggs, jalapeno and water. Add salt and freshly ground pepper to taste.
In a large nonstick skillet melt butter over medium heat. Cook eggs, stirring, until done.
To assemble burritos, place a tortilla on a cutting board. Spread a quarter of the scrambled eggs across center of tortilla and top with a quarter of the cheese, beans, scallions, cilantro, salsa, sour cream (if using) and lettuce.
Fold the tortilla envelope style: bring one side of tortilla just over edge of filling, fold in sides of tortilla, and then roll it up to form a tight bundle. Cut in half crosswise.
Repeat with remaining tortillas and fillings. Serve burritos with additional salsa and sour cream.