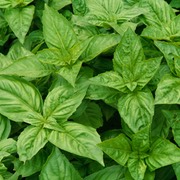 Basil is a member of the mint family. It's bright green leaves, peppery flavor and licorice-like fragrance adds a fresh taste to many dishes.
One way to store basil is by wrapping the stems loosely in paper towels and placing it in a resealable plastic bag in the refrigerator; it will keep up to 6 days.
________________________________________________________________________________________________________
INGREDIENTS:
1 tablespoon fresh lemon juice
Pinch sugar
Coarse salt and ground pepper
1 tablespoon olive oil
1 head lettuce torn into bite sized pieces
1 cup lightly packed fresh basil leaves
DIRECTIONS:
In a large bowl whisk together lemon juice and sugar; season generously with salt and pepper. Whisk until oil is incorporated.
Add lettuce and basil leaves; toss to coat with dressing. Serve immediately.
Basil Butter
INGREDIENTS:
1 cup butter at room-temperature
½ cup finely chopped fresh basil
Coarse salt and ground pepper
DIRECTIONS:
In a small bowl combine butter and basil. Season generously with coarse salt and ground pepper. Stir to combine. Transfer to a 10x10 inch piece of wax or parchment paper. Roll into a cylinder about 2" in diameter and 6" long. Twist ends to seal. Refrigerate until firm, about 2 hours. To serve, unwrap and slice crosswise.
Can be stored in the fridge up to one week (wrapped) and frozen up to 3 months (place parchment or wax paper wrapped cylinder in a resealable plastic bag.
A fantastic addition to summer grilling. Try on grilled bread, on broiled or grilled fish, on grilled steak or chicken, on corn on the cob or boiled potatoes, with boiled green beans, boiled peas or tossed with pasta.